Balancing Caregiving With Career and Life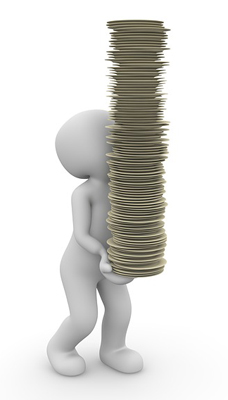 The concept of "balance" infers an equal distribution of the components one is balancing, such as work with relaxation, obligations with options. Unfortunately, the individual whose obligations include both career and caregiving rarely achieve a feeling of balance during the tenure of the caregiving role. Balancing caregiving with career and life can feel like an impossible feat.
Add the need to tend to one's own mental and physical wellbeing, and take the time to be a friend and the goal of "balance" is soon replaced by the need to simply get everything done one way or another, typically at the cost of the caregiver. At that point, achieving "balance" isn't even a realistic goal without a decision to give up something.
Work-Related Alternatives
While there may be work-related alternatives which may provide some relief, such as taking leave from a job, telecommuting, or job sharing, many individuals have work and life situations that these techniques simply don't accommodate, so the job for which one is paid must be done the way it was done before caregiving responsibilities became necessary.
Rearranging Obligations & Priorities
It is, therefore, up to the caregiver to determine how one's life must be rearranged to even begin to resemble balance. This typically means taking an inventory of all obligations, especially those that have been self-imposed, and determining which ones must be rearranged–either delegated to others or given up altogether– so that everything ultimately gets done while still accommodating down time for the caregiver.
As a caregiver, what duties have you volunteered for that now have to be set aside?
What parts of your caregiving responsibilities can be assumed by other family members, neighbors, or professional caregivers?
What community services are available that could substitute for or supplement your personal efforts?
The main reason for reconfiguring how the caregiving duties are carried out is to create time for yourself. So, if your schedule allowed, what downtime activity would provide you the most rejuvenation? As you create time in your schedule by shifting some of your caregiving responsibilities, use the free time for this activity.
Hiring Help
Doing it all yourself isn't possible for many people, and although it may feel like hiring help would be either too costly or "selfish," those assumptions are often incorrect. There are three great options that one should consider:
Respite Care – While hiring a full-time in-home aide might be too much, taking some much-needed time for respite is important for everyone. Respite care allows you to still manage the day-to-day responsibilities of caring for your loved one while taking the breaks that will allow you to recharge and give your loved one your all.
Adult Day Care – Adult day care services won't empty your wallet and they provide much-needed socialization and stimulation for your loved one. They will look forward to the days when they get to engage with friends and enjoy their favorite activities. 
Home Care – If you need more consistent care, a home care aide can be an incredible addition to your family. You determine how many hours you will need help with and the schedule and your loved one still gets to remain at home. Home care services allow you to provide your caregiving support when you are able to without draining yourself dry.
Approximately two-thirds of all family caregivers also work outside of the home. One characteristic of the type of individual that makes an excellent caregiver is an unrealistic requirement they have of themselves to "do it all." Unfortunately, as unselfish as it may seem, this superwoman (or man) mentality acts to the detriment of all concerned, even the care recipient. In order to be a really effective caregiver, one's emotional and physical well-being must be a priority. And the take-charge caregiver who is inevitably feeling overwhelmed by all that is required must now take charge of making changes.
Sources:
https://www.agingcare.com/Articles/balancing-career-caregiving-cant-do-it-alone-180295.htm?utm_source=Newsletter&utm_medium=Email&utm_campaign=Newsletter%20-%20April%209,%202016&acst=7d6a3712-3f51-48da-a6d5-d3702d89706e
http://www.aarp.org/home-family/caregiving/info-11-2013/caregiving-duties-parents-work-goyer.html