Benefits of Hiring a Companion for Your Senior Loved One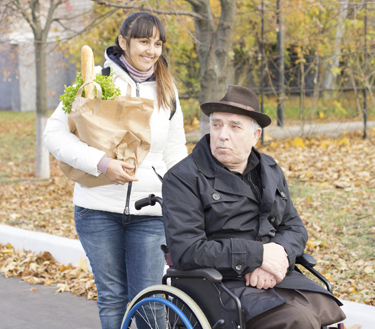 So many adult children are struggling to care for their aging parents these days. Fortunately, there solutions. Let's look at the benefits of hiring a companion for your senior loved one.
Growing old is not for the faint of heart.
This is not exactly a new sentiment. You heard it long before it became relevant.
Watching loved ones grow old is not for the faint of heart.
This one sneaks up on you. The seemingly small changes in your parents' physical abilities, mental astuteness, and general outlook have tugged at your heart for quite some time, but now they have somehow accumulated to make you face the music…they are obviously not going to live forever.
Being an adult child of an aging parent is not for the faint of heart.
This is your new mantra. You've realized that not only are your parents not going to live forever, they can't even live alone any longer. All of a sudden, it is up to you to figure out how to keep them safe, make them comfortable, prevent their loneliness, make sure they eat properly, provide mental stimulation, keep their environment clean, ensure their personal hygiene, maintain their medication schedule, get them to their doctors' appointments, and generally enhance their quality of life, all while meeting your own obligations and living your own life. NOT POSSIBLE!
Fortunately, there is a very effective compromise that satisfies all the demands, plus assures a set of eyes that can monitor your parents' daily activities and let you know when things are changing ever so slightly….yet again. The peace of mind this decision affords is worth the investment. A home care companion, accurately called a caregiver, can assimilate into your parents' lives and do what you can't, all while keeping your parents exactly where they want to be… at home.
Benefits of Hiring a Companion for Your Senior Loved One
Your loved one can remain at home and maintain their independence.
You can give them everything they need without having to do it all yourself.
You get to spend more quality time with your loved one instead of stressful and chaotic time as you try to do it all.
It allows you to provide them with a companion during the times when you can't be there. Since social skills are an important part of maintaining health, it is important your loved one doesn't spend too much time alone.
You are able to provide your loved one with safe transportation and the peace of mind that they will get to their appointments and be able to venture out into the world safely.
Your in-home caregiver is accountable to you and is there to let you know when your loved one is not eating properly, is having trouble with medication or is forgetting things.
Caregivers are loving and caring by nature and they often become like part of the family. Your loved one will gain a new friend and companion that they will look forward to spending time with.
Sources:
https://www.agingcare.com/Articles/benefits-of-hiring-home-care-for-an-older-adult-182771.htm?utm_source=Newsletter&utm_medium=Email&utm_campaign=Newsletter%20-%20January%2027,%202016