What is Accompaniment Transportation?
Accompaniment transportation may sound like a mouthful, but its name is a great description of what it is. This type of transportation is the perfect solution for loved ones who need or want to be accompanied when away from the home. It ensures they won't be confined to their house, that there will be a trusted individual to take them places when you aren't available, and that they will be safe and cared for.
What is Accompaniment Transportation?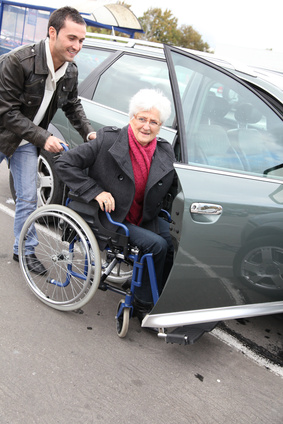 Accompaniment transportation is not a taxi service. It is so much more. It combines transportation with companion care and personal care for a seamless solution. Instead of a typical driver taking your loved one where they need to go, a caregiver accompanies them. They remain with your loved one, ensuring that all of their needs are met and that they are being cared for properly.
Accompaniment transportation is personalized to the client so that he or she can get the full amount of services and care that he or she needs. Plus, the caregiver will serve as a trusted friend by engaging your loved one in friendly conversation and providing companionship. Help with planning and organizing is often part of the accompaniment transportation process as well.
Call Now – Transportation You Can Trust for Your Loved Ones
When is Accompaniment Transportation Used?
Medical Procedures, Doctor's Appointments & Therapy Sessions – If your loved one needs to return home from the hospital after surgery and family and friends aren't available, accompaniment transportation is the perfect solution. In addition, a caregiver can assist your loved one inside to any of their appointments and stay as long as they need, often helping with check in and booking follow up appointments.
Hair Appointments, Grocery Shopping & Errands – Caregivers can help your loved one through the entire process of choosing and purchasing the things they need, getting their purchases in the car and putting them away at home.
Social Outings, Special Events, Trips & Religious Services – The caregiver can stay as much as requested, and provide any care that is needed during your loved one's social outing. If he or she is traveling far and staying over night, the caregiver can help with packing, getting documentation together, and ensuring they get safely on their means of transportation, whether by plane, train or bus.
Getting Out of the House – Perhaps your loved one just wants to get out of the house. A caregiver can act as their companion, taking him or her to the park for a walk or even just going out for a cup of coffee.
Accompaniment transportation provides peace of mind and ensures safety. It is an invaluable service that too many people aren't even aware exists. Find Accompaniment Transportation in Delaware and Minnesota here.