How to Prepare a Loved One for Home Care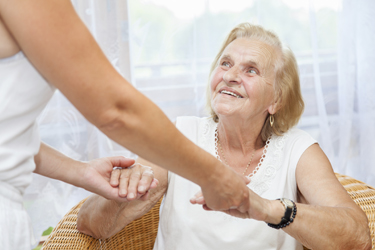 Sometimes, the thought of having home health care can be a difficult transition, not only for your loved one but for the whole family as well. Here are some tips for how to prepare a loved one for home care.
Independence is the Goal – If your loved one is a senior who wants to remain independent, home care can at first seem like a break in that freedom. This is when it is important to point out that home care is actually what will allow your loved one to keep their independence. While it can be hard for him to admit he needs some help at home, thankfully home care allows him to remain in his home. You can also reassure your loved one if having someone in their home is a stressor because home care aides and nurses often become like part of the family or good friends at the very least – compassion and caring is their middle name. In addition, caregivers are not only there to ease the burden off of you, the family caregiver, but also of your loved one, so find out what burdens he or she would like lifted and emphasize how lucky they are to have that option. Here are 5 additional tips for talking with a loved one about home care.
Better Quality Time Together – Home care eases stress for the whole family, and it makes the time you spend with your loved one more enjoyable and focused on quality time instead of it being about taking care of your loved one's needs. By expressing that you'll be able to enjoy more quality time with your loved one, he or she can begin to see home care in a new light.
Interview Caregivers Together – It's important that the caregiver you choose be not only compassionate, caring and experienced, but also a person whose personality will compliment your loved one. Interviewing caregivers together can help you both to choose a caregiver that your loved one can feel comfortable and safe with, and even enjoy being around.
Prepare the Home – Preparing your loved one mentally for home care is the first step. Now it is time to ensure the house is ready for a caregiver to come in and that your loved one's safety is ensured. Click here for a checklist that will help you get the home ready.
Prepare a Care Plan – Being organized and having a caregiving plan can help the home care initiation process go smoother, which will reduce stressors and unknowns for everyone involved. Click here to learn how to create a caregiving plan.
Understand the Process – The more you understand about the home care process going into it, the easier the process will be. While your home care company will guide you through, knowing what questions to ask and being prepared beforehand can make it even smoother. Download our Home Care Solution Guide to get up to speed.